You found your way to the Princeton University Golf League website. Whether by accident or you've been searching for us, take a few minutes to find out more about our organization. Started in 1962, the PUGL is a co-ed league for Princeton University and Princeton Plasma Physics Laboratory faculty, staff, students and friends. Whether new to the game or an old stalwart, members devote one afternoon each week to playing golf while forging new relationships and strengthening old ones. To find out more, click on "Find Out More" or peruse our website to see all that we have to offer.
---
News/Updates
2018 Spring Meeting  – The 2018 spring meeting is scheduled for Tuesday, March 20 (weather permitting – !@#$&* nor'easters).  Whether you are new to the league, thinking of joining, a long-time member, or just have nothing to do on Tuesday, join us at 4:30 in Room 138 in the Lewis Library.  Not sure how to get there – visit the university's interactive map.  Parking is free in Lot 21 and just a short walk away.  We look forward to seeing you there!
2018 Season Assembling Now!    – The 2018 season is scheduled to start on Tuesday, April 24.  The 18 match season completes on August 28 with one bye week during the July 4th week.  Single elimination playoffs, for the top 8 teams in each flight, start the Tuesday after Labor Day and conclude by the third week of September.
---
Spotlight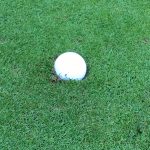 Want to find out more about specific members, the course pros, or even some of our special guests?  Whether new to the league, just a curious visitor, or been around for a while, visit each week to learn something new about someone affiliated with the league.
Curious about the placeholder picture – this was a ball hit from 80 yards out by our league officer Tim Downs at the fall outing held at Hopewell Valley Country Club.  It was a rainy September day so the ball plugged half way into the green.  And yes – he did make the putt for birdie.
---
Standings - 2017 Season (Final)
| | | |
| --- | --- | --- |
| | A Flight | B Flight |
| Regular Season Champions | Ron Schnur/Jay Katz (92.5) | Paul Midura/Keith Tuccillo (89.5) |
| Tournament Champions | John Ziegler/Mike Moran | Tony Bleach/Jim Barbour |
| Highest Avg Points per Match | Ken Silber (16.8) | Dan Hogan Jr (17.3) |
| Low Gross | Tim Downs (34) | Dan Hogan Jr/Bob Key (39) |
| Low Net | Scott Casey (28) | Bob Key (26) |
| Low Average | Neil Pomphrey (40.4) | |