You found your way to the Princeton University Golf League website. Whether by accident or you've been searching for us, take a few minutes to find out more about our organization. Started in 1962, the PUGL is a co-ed league for Princeton University and Princeton Plasma Physics Laboratory faculty, staff, students and friends. Whether new to the game or an old stalwart, members devote one afternoon each week to playing golf while forging new relationships and strengthening old ones. To find out more, click on "Find Out More" or peruse our website to see all that we have to offer.
---
News/Updates
2023 Sign Ups coming soon
2022 Season Planning under way, big changes coming! 
2021 Fall Outing is a go for Oct 8 at Mtn View
2021 Season  – With the long winter beginning to recede, it is time to start planning for the 2021 season.  While many decided to take a break last year, the courses are ready for us this year with no restrictions.  Safety is still a priority so we will need to keep our distance, limit contact (forgoing the traditional hand shake), and use common sense when things will inevitably change again.  I look forward to getting some fresh air, partaking in some much needed exercise, and seeing my fellow golfers out on the course for some friendly competition.
2021 Spring Meet and Greet – Our annual meet and greet is scheduled for Tuesday, March 16 at 4:30pm.  Once again we will met virtually via Zoom.  The meeting is open to all (returning and prospective members, the curious, and those that are just bored) and a great opportunity to meet fellow golfers and learn more about the league.  Hope to see you there!
---
Spotlight – Thanks to the 2020 PUGL Members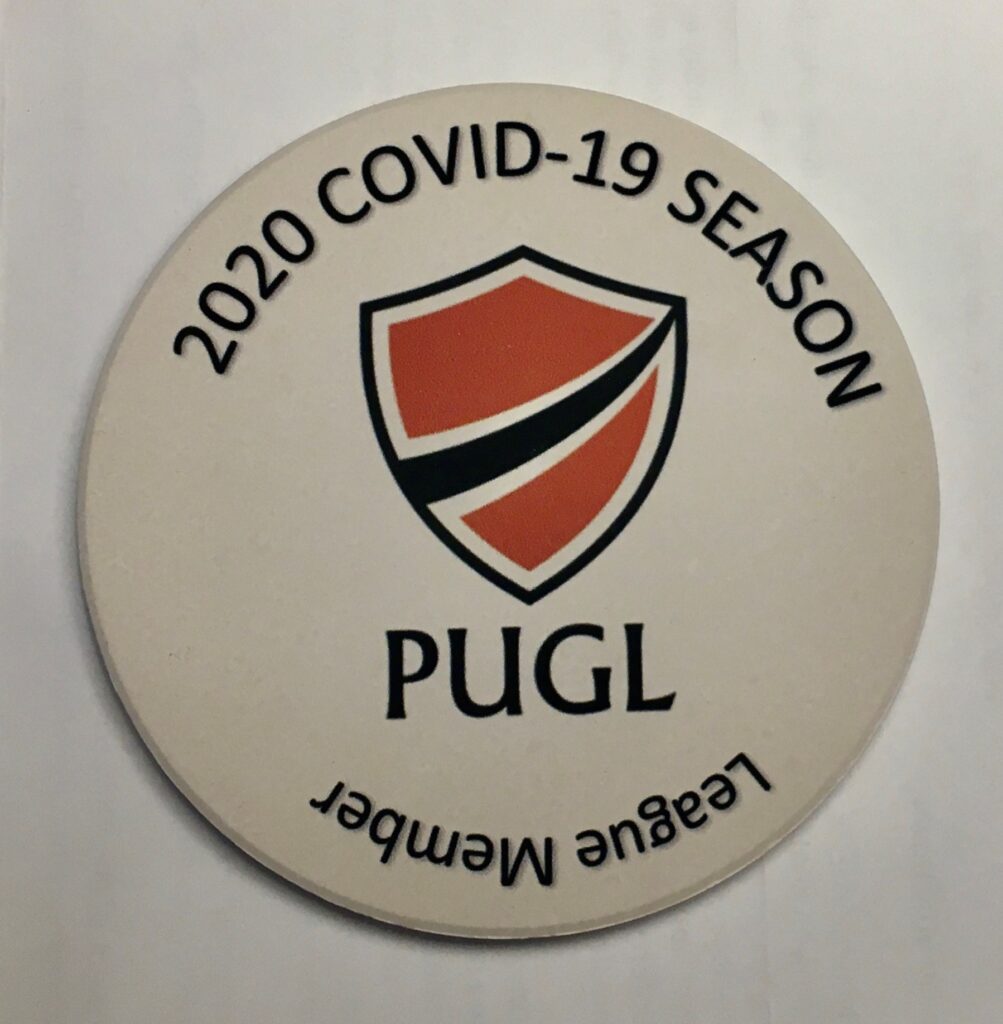 A special thanks to the 2020 PUGL members who kept the league going, albeit at a smaller than usual size.  10 teams weathered the unusual season which included starting as twosomes, tee times every 16 minutes, one to a golf cart, etc.
The attached picture shows the "badge of honor" that was available to those that were members during the unique COVID season.
---
Standings - 2022
A Flight
B Flight
Regular Season Champions
Chris Stewart/Mike Addotta (5.3)
Heidi Schaefer/David Voorhees (4.9)
Tournament Champions
Eric Witter/Jim Hirsch
Tony Bleach/Jules Nemeth
Highest Avg Points per Match
Jim Hirsch (16.5)
Shawn Wisely (15.1)
Low Gross
Chris Stewart & Sean Wilkinson (36, -1)
Hiram Cartagena
(41, +5)
Low Net
Sean Wilkinson (31, -6)
Hiram Cartagena, James Wood, Heidi Schaefer (31)
Low Average
Chris Stewart (41.27)